EDIT MAIN
Early Childhood Special Education Coordinator
July 1, 2020
Closing Date:July 15, 2020
(Position will close from date of listing or until filled. Application review will begin on July 15, 2020).
Duties:
This position will provide direct support to district and educational cooperative early childhood special education programs; work collaboratively within the Arkansas Department of Education – Division of Elementary and Secondary Education (DESE) and across other agencies and stakeholder groups to build state capacity to support serving all children with disabilities more effectively in an inclusive setting; participate in the development and implementation of policies, procedures, and regulations relative to the Individuals with Disabilities Education Act (IDEA) and other state and federal mandates for early childhood programs; develop sample templates and procedures for early childhood programs that elect to share responsibilities for the provision of a free appropriate public education; work with ADE and other agency staff to project the impact of programmatic and regulatory changes and make recommendations to the ADE regarding such changes; work in collaboration with other early childhood stakeholders to identify and implement evidence-based, high-leverage, inclusive early childhood practices statewide; coordinate and communicate with federal, state, regional and local partners to maximize effective use of resources and to inform planning and reporting on performance indicators, resulting in DESE receipt of funds for special education; collect and analyze data to inform professional development and technical assistance needs of state and local programs and participate in the planning and coordination of professional development and technical assistance to meet those needs; participate in monitoring activities to ensure program compliance and the elimination of barriers that could negatively impact results for children with disabilities; and prepare written reports and guidance documents to support state and local programs.
QUALIFICATIONS:
Current Arkansas educator's license; master's degreein special education or a related field with an emphasis in early childhood specialeducation; minimum of five years' experience in a coordinator or supervisor position related to early childhood education.
CERTIFICATES, LICENSES, REGISTRATIONS:
Must possess a valid Arkansas driver's license. Other job related education and/or experience may be substituted for all or part of these basic requirements, except for certification or licensure requirements.
SPECIAL PROVISIONS:
This is a 250-day position housed in Little Rock
Interested applicants should submit a letter of interest and current resume to:
Matt Sewell, Director of Special Education
Arkansas Department of Education – Division of Elementary and Secondary Education
Special Education Unit
1401 W. Capitol Ave
Little Rock, AR 72201
---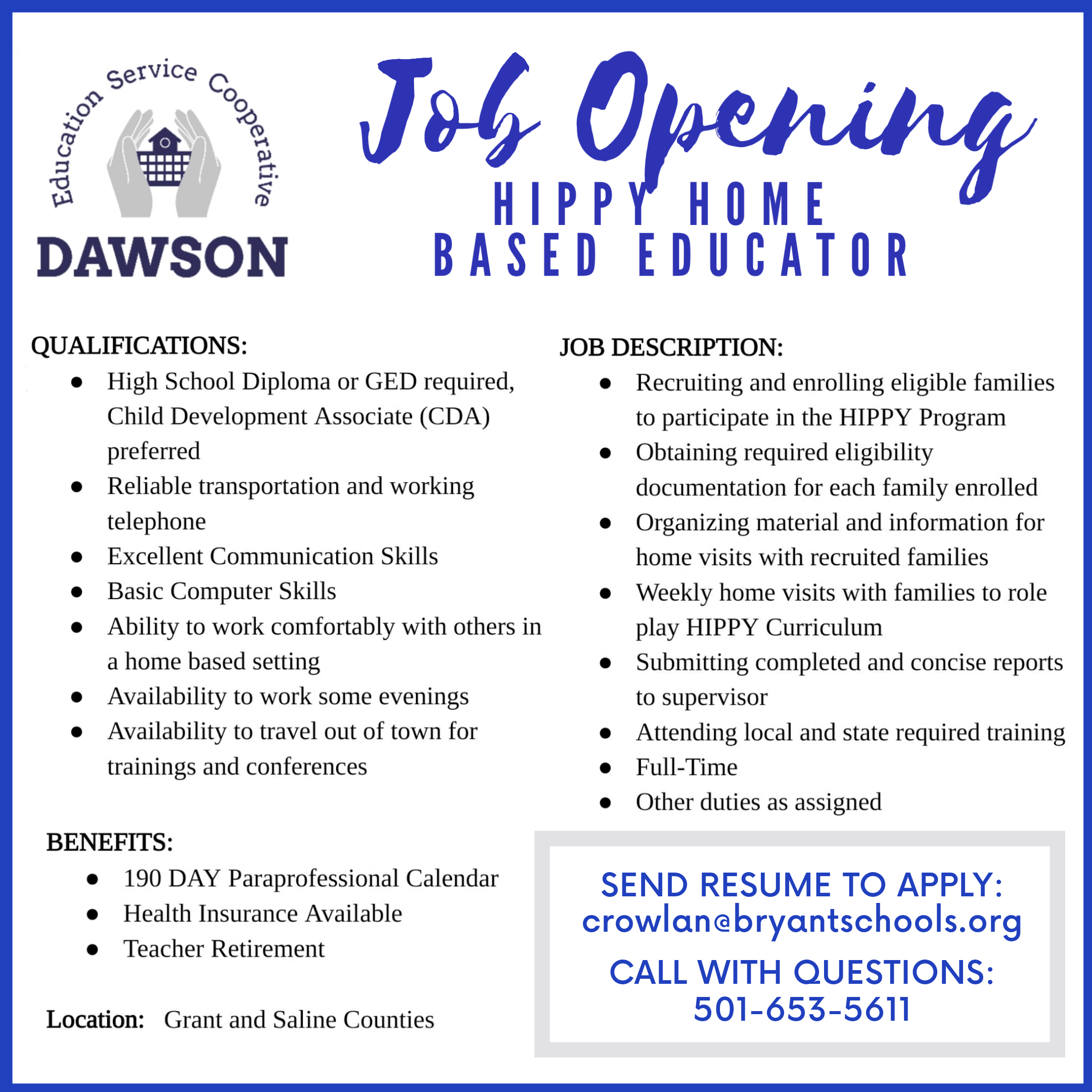 ---
SPEECH-LANGUAGE PATHOLOGIST
The Dawson Education Cooperative Early Childhood Special Education Program is accepting resumes for the position of Speech Language Pathologist. This is a 190 day salary position running concurrent with the public school year calendar. The application process is open until the position is filled.
Interested applicants should send a resume to Shannon Leathers,
Early Childhood Special Education Coordinator, shannon.leathers@dawsonesc.com.
An Equal Opportunity Employer
---
HIPPY Home-Based Educator Position – Clark County Area
Dawson Education Cooperative is now accepting resumes for a HIPPY Home-Based Educator for the Clark County area. The Home-Based Educator must be comfortable visiting in family homes of the community of all social-economic backgrounds.
The required qualifications are:
Must have dependable transportation.
Must be organized, have time management skills and be willing to work independently.
Have good oral communication, reading and writing skills.
Computer skills are needed to perform basic data entry for mileage reimbursement, documentation of home visits, and more duties that may be assigned by the Coordinator.
Assist with program requirements and other duties as assigned by the Coordinator.
Education:
High School Diploma or equivalent, CDA-Child Development, A.A. in Early Childhood is helpful.
Please send resumes or questions to Jordan.Phillips@dawsonesc.com

---
RISE REGIONAL LITERACY SPECIALIST POSITION
The Dawson Education Cooperative is taking applications for the position of RISE Regional Literacy Specialist. This person will be housed at the Arkansas Department of Education in Little Rock. Minimum qualifications include three or more years of classroom experience in teaching reading; knowledge of current research and effective practices in standards-based curriculum, instruction and assessment and completion of RISE training.
Note: Applicants will be asked to do a 5 to 8 minute presentation on any current topic in the area of literacy to demonstrate presentation skills.
Send a resume to Dawson Education Cooperative, ATTN: Darin Beckwith, 711 Clinton Street Arkadelphia, AR 71923 or Billie Garlin at billieg@dawsonesc.com. This position is open until filled.
Dawson Co-op is an EOC employer.
---